Nature Versus Picture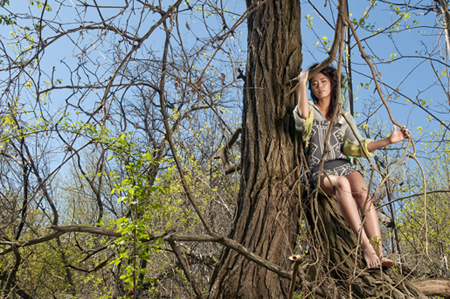 Bo Ra Nam '11 poses in her own design. Photo by B. Charles Johnson '11.
"Nature Versus Picture," in the summer 2010 issue of
Hue
, features photos from a recent collaboration between Fashion Design - Knitwear and Photography and the Digital Image students. The knitwear students created "refurbished garments" (that is, tops and bottoms fashioned from discarded fabrics). Then two groups of photography students cast models, hired assistants, and spent a day photographing the eco-friendly clothes in the relative wilds of Manhattan's Inwood Hill Park. Both garments and photos were displayed at FIT's sustainability conference, Redesigning for a Sustainable Future, at the John E. Reeves Great Hall in April 2010.
A gallery of images from the project is at the right. Credits are below.
Designers
| | |
| --- | --- |
| So Hee Bae '11 | Hye Soo Lim '11 |
| Olga Bely '11 | Bo Ra Nam '11 |
| Jusil Carroll '11 | Sara Nielsen '11 |
| Melinda Danko '11 | So Ra Park '11 |
| Dan Fan '11 | Sonam Sangmo '11 |
| Joanne Hwang '11 | Wendy Quiroa '11 |
| Elin Johansson '11 | Layne Schwartz '11 |
| Hye Won Lee '11 | Yaeji Son '11 |
| Hyo-Kyoung Lee '11 | Jessica Velez '11 |
| Ye Den Lee '11 | Dimitra Williams '11 |
Faculty supervisors
Lisa Donofrio, Fashion Design - Knitwear

Curtis Willocks, Photography

Jessica Wynne, Photography

Makeup and hair
Lauren Powzyk, Photography and the Digital Image '13

Models
Jessica Corallo, Fabric Styling '11 and Fashion Design '09

Erin Curry, Textile/Surface Design '10

Melissa Hyunh, Production Management: Fashion and Related Industries '12

Jolene Lupo, Photography and the Digital Image '11

Emma Mutino, Photography and the Digital Image '11

Bo Ra Nam

Photographers
| | |
| --- | --- |
| Julie Congo '11 | Constantin Mitides '11 |
| Kristine Guzman '11 | Alexandra Nelson '11 |
| B. Charles Johnson '11  | Elliot Townsend '11 |
| Daniela Johnson '11 | |
Photographers' assistant
Stephen Wordie, Photography and the Digital Image '13

Stylist
Amy Liebla, Fashion Merchandising Management '10