How to Be a Quitter
Rena Prag Greenberg, Advertising and Communications '80, helps cure cravings
By Alexander Gelfand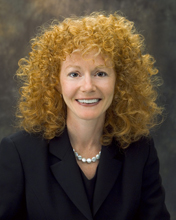 Rena Greenberg is in the business of making people feel better. Through her seminars, books, CDs, and DVDs, this certified hypnotherapist has built a one-woman industry dedicated to helping people stop smoking and lose weight.
There was a time, however, when Greenberg herself was in need of help. In the late '80s, she was working for Club Med when she became seriously ill. (This was after working in fashion PR, as a Bloomingdale's buyer, and as an assistant to actor Ben Vereen.)
"I had just returned from a Club Med job in Tahiti and Guadalupe, I was 25, and the doctor told me I had the heart of an 80-year-old," Greenberg says. "I spent three weeks in the hospital, got a permanent pacemaker, and realized that I needed to make some radical changes in my life."
Biofeedback and self-hypnosis helped Greenberg adopt a healthier diet and exercise regimen, and she eventually developed weight-loss and smoking-cessation programs to help others do the same. So far, she says she's helped 100,000-plus people break their addictions.
Greenberg does it by using hypnosis to replace destructive urges, like reaching for that cigarette or bag of chips, with positive ones, like going for a jog. "Most people who come to me already know how to lose weight: eat less and exercise more," she says. "The question is, how do you get the subconscious mind to accept those changes?"
For more information on Greenberg's work, visit
easywillpower.com
.