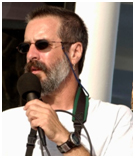 arthur_kopelman@fitnyc.edu
Department:
  Science and Mathematics 
Initiative:
  New Sustainability Minor
"Doing things in concert with the biosphere, in ways that produce the smallest ecological footprint and the greatest good." - AK 
How would you categorize your initiative?
My initiative was, for nearly 30 years, to move FIT towards incorporating sustainability in all that we teach and undertake. In addition, I am now involved in developing a Liberal Arts/interdisciplinary Sustainability minor.
Please describe your activity and its relevance to sustainability in the curriculum.
This proposed minor will be an attempt to provide students, who wish to study aspects of sustainability, with a series of courses (15 credits) from the liberal arts and elsewhere.
Have you incorporated this activity in your teaching? If so, when?
I have been incorporating sustainability, ecological and environmental issues in all of the courses that I teach (Ecology and Environmental Problems (SC 253); Field Biology (SC 122); and Introduction to Biological Sciences (SC 121)).
Briefly describe your experience implementing your activity.
SC 253 has been offered since 1986. Today, and for the past few years I offer 5 sections of SC 253 per year (3 in the Fall and 2 in the Spring). There is tremendous interest in the subject matter and in developing the minor.
Do you anticipate any next steps in your sustainability initiative? 
Math courses are being developed in the Science and Math Department, as well as an Environmental Economics course in the Social Sciences Department. Other courses are being planned including additional science courses, and we will incorporate several existing courses in the Schools of Art and Design and Business and Technology. It is heartening to see the college move in this direction and that we are embarking on a paradigm shift that is needed and should be supported at all levels.