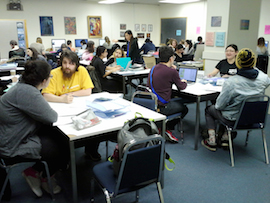 Group/Individual Tutoring
Walk-In Tutoring
Workshops
Disability Support Services
Beginning the third week of the fall and spring semesters, students may schedule appointments with a tutor. Appointment with a tutor must be made at least 48 hours in advance. Cancellations must be made at least 24 hours in advance by calling 212-217-4080 or sending an email to www.AcademicSkillsCenter@fitnyc.edu. If you do not cancel 24 hours in advance, it will be considered as an absence, and each student is only allowed one absence per semester.

Students who are currently registered in credit-bearing or remedial courses at FIT may receive up to seven (7) hours of individual tutoring each fall and spring semester. They may also attend walk-in tutoring sessions as often as they like. In order to receive tutoring for a particular class, they must be currently taking that class and may schedule an appointment for up to two weeks in a row at one time.

During fall and spring semesters, students may use the seven hours in the following ways:
a. seven one-hour sessions, once per week, or
b. 14, 30-minute sessions (maximum of two per week), or
c. a combination of one-hour and 30-minute sessions throughout the semester

Register and Make an Appointment

1. Please read the following "Tutoring Contract" to understand the purpose and rules of the tutoring center.
I understand that I am only allowed one absence per semester.
I understand that I must cancel my appointment 24 hours in advance. If not, it will be considered an absence.
I understand that I should contact the tutoring center if I am going to be late or absent at 212 217.4080.
I will supply my tutor with information about my course and bring the necessary notes, books, and equipment.
I understand that the purpose of tutoring is to help with the clarification of material that the instructor has presented in class or to get a better understanding of required reading and homework.
I understand that I cannot expect the tutor to have the same expertise as my instructor.
I understand that under no circumstances will a tutor do my work for me and cannot help with take home exams.
I understand that a tutor's job is to help me to become a more self-sufficient, independent learner by providing access to the skills necessary to eventually succeed on my own.
2. To register and schedule an appointment, go to: https://fit.mywconline.com/ (use Chrome or Firefox)

3. If you want to sign up for a writing tutor, choose "Writing Studio" from the drop-down menu.

4. For all other classes, choose the option "Academic Skills Tutoring Center."
During the fall and spring semesters, we offer walk-in tutoring in the following subject areas: draping, sewing, pattern-making, computer pattern-making, math, economics, science, accounting, computer software (Microsoft Office, Adobe Suite, Soft Image, Autocad and others), and Fashion Business Management courses. Walk-in sessions offered may vary from semester to semester.

The walk-in schedule will be posted on this site the fourth week of the fall and spring semesters and the first week of the summer sessions. For more information on tutoring or walk-ins, please call 212-217-4080.

Walk-In Schedule
The Academic Skills Center Presents
FIT Alumni Panel Discussions:
What it takes to be Successful at FIT and Beyond…
Come hear FIT graduates speak about their own experiences at FIT and how they
achieved success in their area of study at FIT and beyond.
Making the most out of your FIT education

Tips on being a successful student throughout your college career

Internships, networking, life after FIT and the job search



Workshops: All Workshops will be held from 1:00-2:00
in the Dubinsky Student Center Room A320 (light snacks provided)
1. Tuesday, October 6 - Fashion Business, Fashion Design, FD Knitwear, Computer Animation
2. Tuesday, October 13 - International Trade, Computer Graphics, Fashion Business Mgmt., Jewelry Design
3. Tuesday, October 20 - Illustration, International Trade, Fashion Business, Computer Animation
4. Tuesday, October 27 - Textile Design, Interior Design, Computer Animation, Fashion Design - Illustration
5. Tuesday, November 3 – Toy Design, Advertising/Marketing Communication, Fashion Design (2)
All FIT students are welcome. No prior registration is needed.
_____________________________________________________________________________________________
If a student requires special services for tutoring due to a disability, Academic Skills will work with the FIT-ABLE office, the college's disability support services office, to make the necessary accommodations. Students should first contact FIT-ABLE, Room A570, 212 217.4090 or go to www.fitnyc.edu/fitable.