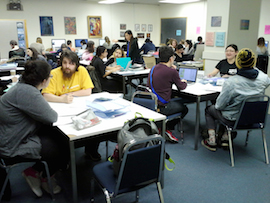 Group/Individual Tutoring
Walk-In Tutoring
Workshops
Disability Support Services
Summer Tutoring, 2015
Tutoring for the Summer I Session begins on
Wednesday, May 27. To sign up for an individual appointment, please read the instructions below under
"To register/make an appointment with a tutor".
During Summer Session, students may schedule 1 hour of tutoring per week and may attend our Walk-Ins as well.

Summer 2015 Walk-In Schedule
Fashion Design Walk-Ins from June 1 through June 29
Location: C720
Time: 12:30-2:30, Mondays, Tuesdays, Wednesdays

Math, Economics, Science, MS Office Walk-Ins from Wednesday, May 27 to Monday, June 29
Location: A608B
Time: 12:00-2:00
Mondays: Math (most), Economics (SS141,242,443)
Tuesdays: Math (most), Economics (SS141,242,243,343,443,445), Science (SC111,121,122,253), MG153,MG306
Wednesdays: Math (most), Economics (SS141,242,443), Science (SC111,121,122,253)
Thursdays: Math (most), Economics (SS141,242,243,343,443,445), Science (SC111,121,122,253), MG153,306

Fall 2015

Tutoring for Fall 2015 begins on Wednesday, September 16. The registration/appointment system for tutoring will be available as of Saturday, September 12.

Tutoring services are free to all students currently enrolled in credit-bearing and remedial courses at FIT.
Online registration for group/individual tutoring for Fall 2014.

For the Fall 2015,you must make an appointment with a tutor at least 48 hours in advance and if you need to cancel, you must cancel at least 24 hours in advance by calling 212-217-4080 or sending an email to: www.AcademicSkillsCenter@fitnyc.edu. You are only allowed one absence for the semester.

To register/make an appointment with a tutor, please read the information below.
Students who are currently registered in credit-bearing or remedial courses at FIT may receive up to seven hours of individual tutoring each fall and spring semester. You may also attend our walk-in tutoring sessions as often as you like. In order to receive tutoring for a particular class, you must be currently taking that class. You may schedule an appointment for up to two weeks in a row at one time.
For Fall and Spring, you may use the seven hours in the following ways:
a. seven 1 hour sessions, once a week or,
b. 14, 1/2 hour sessions (maximum of two per week) or,
c. a combination of 1 hour and 1/2 hour sessions throughout the semester

1. If you want to sign up for a Writing Tutor, simply go to the website listed below, register, and choose the option "Writing Studio" on the drop down menu to schedule an appointment with a tutor. For all other classes, choose the option "Academic Skills Tutoring Center."
2. Please read the following "Tutoring Contract" so that you understand the purpose and rules
of the tutoring center.
I understand that I am only allowed one absence per semester.
I understand that I must cancel my appointment 24 hours in advance. If not, it will be considered an absence.
I understand that I should contact the tutoring center if I am going to be late or absent at 212-217-4080.
I will supply my tutor with information about my course and bring the necessary notes, books, and equipment.
I understand that the purpose of tutoring is to help with the clarification of material that the instructor has presented in class or to get a better understanding of required reading and homework.
I understand that I cannot expect the tutor to have the same expertise as my instructor.
I understand that under

no

circumstances will a tutor do my work for me and can not help with take home exams.
I understand that a tutor's job is to help me to become a more self-sufficient, independent learner by
providing access to the skills necessary to eventually succeed on my own.
3. Again, when you go to the website listed below to register, you must choose the option for "Academic Skills Tutoring Center" for courses other than writing.
To register and schedule an appointment go to: www.fit.mywconline.com (Use Google Chrome or Firefox)
During the fall and spring semesters, we offer walk-in tutoring in the following subject areas: draping, sewing, pattern-making, math, economics, science, accounting, computer programs (Microsoft Office, Adobe Suite, Soft Image and others) and some Fashion Merchandising and Manufacturing Management courses. The walk-ins offered may vary from semester to semester.
The walk-in schedule will be posted on this site the fourth week of the fall and spring semesters and the first week of the summer sessions. For further information on tutoring or the walk-ins, please call 212-217-4080.
There are no workshops at this time.
If a student requires special services for tutoring due to a disability, Academic Skills will work with the FIT-ABLE office, the college's disability support services office, to make the necessary accommodations. Students should first contact FIT-ABLE, Room A570, 212-217-4090 or go to www.fitnyc.edu/fitable.