September 29, 2010
Award winner Karl Lagerfeld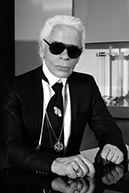 The Couture Council of The Museum at the Fashion Institute of Technology (FIT) honored Karl Lagerfeld with a special award on Friday, September 10th at a benefit luncheon at Avery Fisher Hall, New York City. The award was bestowed by Couture Council Advisory Committee, an independent group consisting of curators, editors, and retailers.
Dr. Valerie Steele, director of The Museum at FIT, announced, "In recognition of his unparalleled role as a creative force in the world of fashion, we have chosen to bestow on Karl Lagerfeld, The Couture Council Fashion Visionary Award. This unique award was created exclusively for Karl Lagerfeld. (…) He is inventive and a multi-faceted creator. For Chanel, he designs the Haute Couture, Ready-to-Wear, Cruise and Metiers D'Art collections, and is the creator and photographer for all fashion ad campaigns. In addition to his work for Chanel, he has his own eponymous line, Karl Lagerfeld, is artistic advisor at Fendi, and over the years has designed for numerous companies, most notably Chloé. His ability to design simultaneously for multiple brands has been a defining characteristic of his career and is typical of his apparently inexhaustible energy and creativity."
To learn more about the award and the luncheon, follow this link