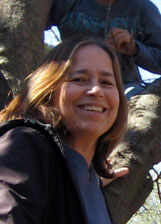 christine_helm@fitnyc.edu
Department:
Enterprise Studies and Digital Design
Initiative:
New Proposed Sustainable Design Entrepreneurs Non-Credit Certificate
"Sustainable design will not play the role we all hope for without sustainable (as in profitable) design businesses." - CH
How would you categorize your initiative?
This initiative is a new non-credit certificate.
Please describe your activity and its relevance to sustainability in the curriculum.
This program helps designers build sustainable businesses and work with their clients to select sustainable materials and manufacturing processes. There are three tracks; fashion design, interior design and accessory design. All take four core courses on sustainable business and then students take two or more additional courses specific to their area of design.
Briefly describe your experience implementing your activity.
Our first semester was terrific. The response started slow and then was very good. Seventy one people took one course or more and seven have already earned a certificate. We plan to add an accessories design and an ethical fashion design workshop.
Based on your experience, do you have any suggestions or advice you might give to other faculty interested in incorporating sustainability into the curriculum?
Just the obvious- get advice from those in the marketplace for whom sustainability is a passion.
Does your initiative have applicability to other curricular or program areas?
This program is great for Art and Design alumni.