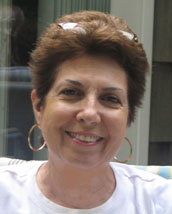 marie_peppard@fitnyc.edu
Department: 
Fashion Design/Art
Initiative:
  Design Using Sustainable & Recycled Fabrics, including a "Green" Presentation
"Sustainability means each person who is capable, takes some responsibility for protecting and conserving our environment whether it's through the purchase of sustainable goods, or the reuse of disposable materials in order to divert it from becoming waste. Everyone must do his or her part in order to succeed." - MP 
How would you categorize your initiative? 
student project
Please describe your activity and its relevance to sustainability in the curriculum.
My goal is to make students aware of designers and companies that are are actively changing the way they do business in order to advance sustainable practices, and also to explain the reasons why this is so important to their immediate future as fashion designers, not to mention, the global health of our planet. Through research on the internet, as well as in fabric stores, they learn what fabrics are sustainable, and why. They convey this knowledge through their design, with conservation of resources in mind.
Have you incorporated this activity in your teaching? 
Yes, within the last academic year.
Briefly describe your experience implementing your activity.
My class, which was part of the one-year fashion design program, took part in the sustainable conference held last semester at FIT. They completed a class project that I explained above. Once they are introduced to sustainability and how it can be applied to design, students display their creativity and resourcefulness by developing new ideas that are exciting and may very well have a lasting impact on our future.
Do you anticipate any next steps in your sustainability initiative? 
Not at this time, as the courses I'm currently teaching are not specifically structured to accommodate a sustainable project.
Based on your experience, do you have any suggestions or advice you might give to other faculty interested in incorporating sustainability into the curriculum?
Just do the basic research on the subject specific to your area, and have plenty of visuals that students can relate to before assigning a sustainable project to your class.
Does your initiative have applicability to other curricular or program areas? 
I think it can be adapted to interior design, as well as textile design through the use of sustainable fabrics and related materials.