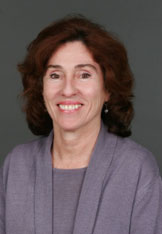 elaine_maldonado@fitnyc.edu
Department:
  Curriculum & Instruction/Center for Excellence in Teaching, Director of Faculty Development
Initiative:
  Research Project -
Advancing Design-related Technological Education: A Three-way Partnership (TECH-FIT)
"I would like my children to inherent a better, healthier, and no less beautiful planet." - EM 
How would you categorize your initiative?
An externally-funded educational research project from NSF focusing on STEM areas (Science, Technology Engineering and Mathematics), and the development of sustainability modules in science.
Describe your activity and its relevance to sustainability in the curriculum.
This recently awarded $150,000 NSF project, jointly authored with Karen Pearson, will develop green/sustainability modules for introductory science courses. Modules will be cooperatively developed with high school and industry in order to pave a more seamless pathway from high school to college to the workplace. The new curriculum will be especially relevant to design-related technical fields such as interior design, packaging and textile development. Equally important will be a new faculty development model, designed to support new curricular efforts and eco-education.
Have you incorporated this activity in your teaching?
I am not teaching in the classroom at the present time, but the projects and activities I am facilitating are designed to foster best teaching practices and faculty innovation with regard to green/sustainability curriculum.
Briefly describe your experience implementing your activity.
This project was awarded on June 1, 2010. Activities are underway and on time. A launch breakfast took place on August 25, and we have received extraordinary support from the FIT community. We will complete the goals set for this project by 2012 and seek a continuation of funding with the expansion of the original project objectives.
Does your initiative have applicability to other curricular or program areas?
The introductory science courses to be enhanced in this proposal support all of FIT's programs.
Do you have anything else to add?
I feel that FIT's programs have the potential to attract broad funding for the development of innovative green and sustainability design curriculum. Curriculum partnerships can be exciting and productive.