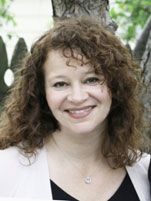 lisa_donofrioferrezz@fitnyc.edu
Department:
  Fashion Design - Apparel
Initiative: 
Course Module - Recycled and Reclaimed
"Sustainability to me means trying to preserve our future for our families and our planet." - DF 
How would you categorize your initiative?
This initiative is a module within a course.
Please describe your activity and its relevance to sustainability in the curriculum.
In this module, students use old sweaters to construct and execute newly-designed garments.
Have you incorporated this activity in your teaching?
I have been using this activity as part of my course for a few years.
Briefly describe your experience implementing your activity.
It was incredible. My students were extremely enthusiastic and we have exhibited the garments at the Sustainability Conference. I plan to continue with my projects and hope to inspire my students to take additional steps as designers with sustainability.
Based on your experience, do you have any suggestions or advice you might give to other faculty interested in incorporating sustainability into the curriculum?
It was extremely easy to incorporate recycling into my course, and my students loved the project and the entire scope of the assignment.
Does your initiative have applicability to other curricular or program areas?
Yes, I believe using recycled materials could be made applicable to any creative curriculum.