/
/
/
/
/
/
Stephanie M. Dishart
Stephanie M. Dishart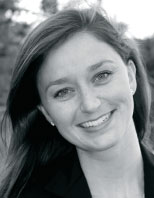 Marketing, Ralph Lauren Fragrances, L'Oréal USA
Ms. Dishart is currently a Global Marketing Director for Ralph Lauren Fragrances. In this role, she is responsible for the development of all new Ralph Lauren women's fragrance brands and management of the existing Lauren women's brand portfolio. In 2008, Ms. Dishart was responsible for the launch of Love, Ralph Lauren, Romance Always Yours, and Ralph Lauren Notorious.
Prior to L'Oréal, Ms. Dishart was an Account Manager at Quest International and a participant in their European Graduate Development Program (EGDP), working across Quest's New York, London, and Shanghai offices in developing the company's global strategy and marketing initiatives.
Ms. Dishart holds a Bachelor of Arts degree in Chemistry from Wake Forest University. She is fluent in Spanish and proficient in French, and completed a community service and international study program at Universidad de La Habana in Havana, Cuba. Ms. Dishart is a member of Cosmetic Executive Women (CEW).