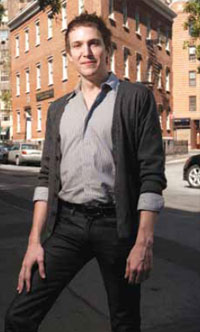 Douglas Bender calls himself a fragrance activist, and it's easy to see why. Bender, who always knew he wanted to go into perfumery, has worked in virtually every facet of the industry, running quality control for raw materials supplier Citrus & Allied Essences, establishing a gas chromatography lab for Victoria's Secret Beauty, and assisting iconic "noses" like Yves de Chirin (Thierry Mugler's Angel) and Yann Vasnier (Marc Jacobs's Lola) at fragrance houses Quest and Givaudan. And all of this before he came to FIT.
But Bender is also committed to restoring fragrance to what he says is its historic role as something more than an accessory. "Today, fashion leads fragrance," he says. "But that wasn't always true. There was a time when fragrance led fashion." Bender wants that time to come again.
To that end, he founded a consultancy to "create fragrances that make a statement"—a broad mandate that covers everything from product development to online marketing, to establish strong, distinctive brands that command attention.
Bender is developing his own fragrance line, Christopher Street, which he hopes to launch this year. Meanwhile, through his consulting work, he is helping to change the way the fragrance industry is perceived by the wider world. For example, he was responsible for bringing the Fragrance Foundation and its coveted FiFi Awards into the realm of social media and the blogosphere.
"The Fragrance Foundation had been industry- rather than consumer-focused," Bender says. "I set up a blog, gave them a presence on MySpace and Facebook, and pumped out to consumers what the FiFi Awards were and why the foundation was important." Through initiatives such as inviting consumers to vote for fragrance of the year (previously, only industry members voted), Bender gave people "a connection they would not ordinarily have to that world."
Also a filmmaker, Bender prepared video presentations to help celebrate the tenth anniversary of the MPS in Cosmetics and Fragrance Marketing and Management. One of these, which premiered at the anniversary breakfast on September 22, is based on eight months' worth of interviews with students, alumni, and industry leaders; its themes are education, leadership, and innovation.
Fortunately, the fragrance industry seems big enough, and broad enough, to accommodate even this activist's boundless energy. "There's room for everyone out there," he says. "It's just about finding your place, and your voice."