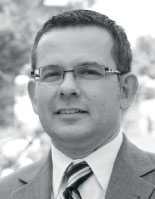 Sales Director, Firmenich
Class of 2007
Hervé Pierini began his career at Firmenich in 1999 as an assistant fragrance development manager in the U.K. He has extensive global experience, having worked in many different development centers throughout Europe, Latin America, and the United States. He has managed the development of fragrances for several key clients across different categories, both on a local and global level.
After a successful career in the development field for eight years, Mr. Pierini became senior account manager and was promoted to sales director. He is a graduate of the Master of Professional Studies program in Cosmetics and Fragrance Marketing and Management. He was the co-recipient of the Outstanding Scholar Award and the Department Medal for the Class of 2007 and was honored to be voted by his peers as the recipient of the 2007 Victoria's Secret Beauty Recognition for Outstanding Leadership.
Mr. Pierini also holds a master's degree in chemistry from the University of Nice-Sophia-Antipolis, France. He is fluent in French and English, and conversant in Portuguese and Spanish.
What is your vision of the future of fragrance?
"Where there is passion, emotion, and creativity, there is life! In our increasingly high-tech, virtual, and computerized world, imagination and dreams become all the more important. What better vehicle than fragrance to deliver the most powerful and personal of all stories, linked to the very essence of our lives, our past, and our future?"