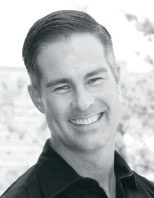 Vice President, North America Marketing, La Mer/Jo Malone
Class of 2005
Kendal Ascher's career in beauty and fragrance began in the early '90's on the retail selling floor as an Aramis selling specialist for the Estée Lauder Companies. His passion for selling and understanding of consumer needs quickly led him to an account executive role for Aramis in Washington, D.C.
Mr. Ascher gained expertise in luxury retailing when transferred to Lauder's Bobbi Brown Cosmetics, serving as corporate liaison for Nordstrom, Saks Fifth Avenue, and Bergdorf Goodman. In 2001, Mr. Ascher joined L'Oréal USA's luxury division in marketing for Kiehl's. During his six years with this niche apothecary brand, he was promoted to assistant vice president for North America marketing. In 2007, Mr. Ascher returned to the Estée Lauder Companies as vice president, global consumer marketing for Bobbi Brown Cosmetics and was most recently appointed vice president, North America marketing for Lauder's La Mer and Jo Malone specialty brands.
Mr. Ascher holds a Bachelor of Science degree in marketing, cum laude, from Virginia Commonwealth University, where he was inducted into the Golden Key National Honor Society. He is a 2005 graduate of the Master of Professional Studies program in Cosmetics and Fragrance Marketing and Management, voted by his peers to receive the Victoria's Secret Beauty Recognition for Outstanding Leadership.
What is your vision of the future of fragrance?
"I think the future of fragrance is going to be about the discovery of unexpected scents that can be worn alone or combined on the skin to create utterly intoxicating blends. This playful experimentation with fragrance will empower the consumer to become the perfumer and the creator of her very own signature scent. The fragrance that she designs is the one that best expresses her personality—thus becoming her single most important accessory and ultimate necessity."