Monika Maniecki, Illustration MFA Alumna
Freelance Illustrator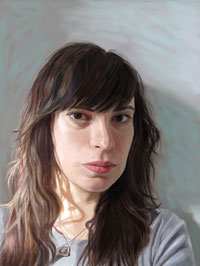 I came into the program not having painted or drawn for several years, and it was something of a reboot. After working in graphic design for many years, I went to work for an agency that represents illustrators and photographers. I remember thinking, "Wow, they're having a lot more fun than I am! Why am I not doing this?"
Now I have a blog where I post my recent oil paintings. I was inspired by a painting class; I'm first and foremost an oil painter, but I hadn't worked in oils in a while, and I didn't want to lose it. I'm just happy that class came into my life!
I've always loved portraiture, and now I'm getting digital portrait commissions. I do a drawing by hand, then scan it and work on it in a program called Painter that's kind of like Photoshop to the max. I could do it all by hand, but the portrait would have to be really big to get that kind of detail—or I'd have to use really tiny brushes!
The work I've done in oils as a result of the program has really had an impact on my digital work. My colors are getting brighter and a little less photorealistic. I'm searching for colors that I didn't see before, and I'm not as literal as I once was. But the digital work has also affected my oil painting; I'm very exacting, and I pay more attention to composition because of the digital work I've done.
I've won several awards and recognitions—Society of Illustrators, Los Angeles, Communication Arts Illustration Annual, Creative Quarterly, 3x3 magazine—and it's a shock every time. It's like, "Wow, they like me!" Competitions are a good motivator.