Sass Brown, Resident Director
Study Abroad Program in Florence, Italy/FIT in Florence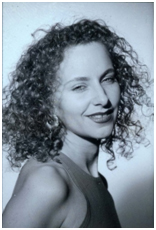 I joined FIT as a part-time instructor a decade ago while working in the fashion industry. Soon I was teaching full-time, coordinating the BFA fashion shows—and acting as an academic advisor for the fashion department, counseling students about studying abroad. So I knew what I was getting myself into when I took over directorship of the Florence program TK years ago!
Moving from New York to Italy has changed me as a designer and an academic. Of course, so did relocating to the U.S. from my native England in the first place. European cultures have a different mindset, education system, and way of approaching and expressing creativity. Not to mention that even things like street signs have totally different meanings than they do in America. It turns your world upside down, which is sometimes frustrating but always rewarding. Many students can't appreciate the experience—and how it changes them—until they return home.
One of the great things about studying in Italy is that it's easy to get around, yet the cities are radically different from one another—little countries unto themselves. This weekend, I'm touring students around Venice. I'm about to hop on a Vaporetto to Murano so I can do it again with the students tomorrow and actually know where I'm going. Getting lost by yourself in Venice is an adventure; with 49 students, it's chaos!