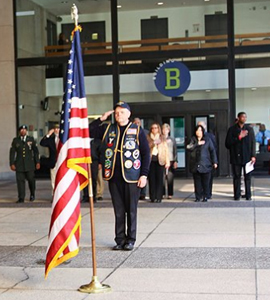 Military and Veteran Student Educational Benefits
The Fashion Institute of Technology is dedicated to serving the needs of prospective and enrolled service persons and veterans in pursuing their educational goals. If you are planning on enrolling for military or veteran student educational benefits, this site can help facilitate your transition by providing you with the proper resources. All students eligible to receive veterans' benefits while attending FIT are urged to complete arrangements with the appropriate agency in advance of enrollment.
Eligibility
The U.S. Department of Veterans Affairs determines the eligibility for educational benefits. If you or your family members are eligible for veterans' benefits, FIT will certify your enrollment so that you or your family members can receive these benefits. To find out which benefits you qualify for and for an application, please visit
http://www.gibill.va.gov/
.
VA Certifying Official Anwar Morse serves as the liaison between FIT, its students, and the various federal, state, and local agencies concerned with veterans' benefits. Any questions regarding these benefits should be directed to Anwar Morse at
anwar_morse@fitnyc.edu
.
U.S. Department of Veterans Affairs: GI Bill
The State University of New York: Military and Veterans
---
In order to activate your veteran student educational benefits, you are required to submit an application in accordance with your specific circumstance:
New, Transfer, and Continuing Students
Types of Veteran Affairs Educational Benefits
Scholarships and Awards for Veterans
Certification of Enrollment