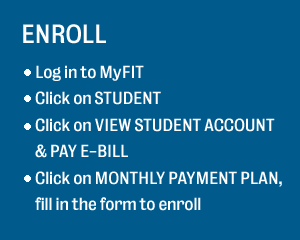 Features of the FIT monthly payment plan:
pay tuition and allowable fees in five monthly installments
automatic bill adjustments
email notification of payment alerts and account changes
Eligibility:
matriculated or degree student
U. S. resident
minimum account balance of $500.00
Summer Terms -- There are no payment plans available for the summer. Student Accounts must be paid in full at time of registration.
You must not have any past due balances on account. There is a non-refundable enrollment fee of $25.00 per semester. The enrollment fee and first monthly payment is due July 15 (fall semester) or December 15 (spring semester). Subsequent payments are due the 15th day of the following months.
The payment plan will automatically adjust your budget to determine your monthly payments according to the allowable charges: tuition, mandatory fees, and technology fees. Some others, like fees for lockers, transcripts, graduation, and late registration, may not be included in your monthly payment amount. You are responsible for all outstanding balances that you owe. Always review your bill and payment plan statement carefully!
Financial Aid
If you enroll expecting to receive a financial aid award at a later date, you must still make monthly payments to your account until financial aid funds are credited to your account. If you stop making the monthly payments, you may have to pay additional fines or late fees. Any outstanding balances/payments owed on your account are your responsibility to pay.
New York State Residents
If you are a New York state resident (living outside New York City), you are charged in-state tuition; however, until you file your County Certificate of Residence, your account will show the out-of-state tuition rate. The amount of this charge is not included in your budgeted monthly payment plan.
Once the Bursar's Office receives your County Certificate of Residence, your account will be adjusted to the in-state tuition rate. If you don't provide a certificate of residence, you will have to pay out-of-state tuition. For more information, visit our Residency page.
Health Insurance
All full-time students (taking 12 or more credit hours) are required to have health insurance. A charge of $770.00 per semester will be included in your payment plan for coverage in the student health insurance plan. If you are covered by a policy equal to or better than the insurance plan offered by FIT, you may request a waiver from our health insurance provider.
If the waiver is granted, the insurance provider will notify our office and the fee will be adjusted on your student account. You will receive an email to alert you to the change. It takes approximately two weeks for the charge to be adjusted after we receive a waiver. For more information, visit our Health Insurance page.